The 42nd IMO was held in Washington DC, United States of America, from 1 to 14 Jul, 2001. The Singapore National Team consisted of:


Team Leader

A/P Tay Tiong Seng

National University of Singapore

Deputy Team Leader

Teo Teck Kian, Thomas

Victoria Junior College

Contestants

Leung Ngaihang, Zachary

Anglo-Chinese School

Lin Zhiwei, Calvin

Hwa Chong Junior College

Meng Dazhe

River Valley High School

Tan Kiat Chuan

Raffles Junior College

Tham Ming Qiang, Nicholas

Raffles Junior College

Yeh Yuanlong, Gary

Anglo-Chinese Junior College

Observer

Wee Hoe Teck

Massachusetts Institute of Technology
<![if !vml]>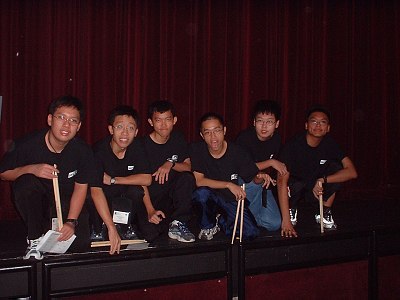 <![endif]>The start of the 42nd IMO was marked by a grand opening ceremony held on the George Mason University campus where the contestants were hosted. The highlights of the ceremony included a Parade of Countries, where a representative from every participating country went on the stage and introduced themselves, a cultural performance by the Deer Catcher Native American Dance Troupe, and a rousing a capella performance by the Morgan State Choir, which saw the audience rising to a rendition of "We're The World". After the opening ceremony, all the participants were taken a cruise along the Potomac River to view the 4th of Jul Fireworks in a celebration of the independence of America.
<![if !vml]>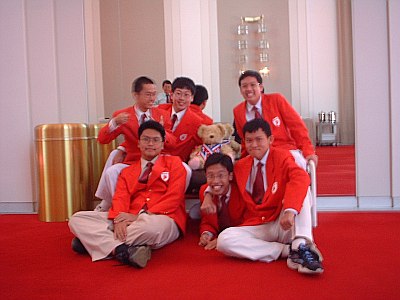 <![endif]>After the gruelling 4.5-hour examinations on 8 and 9 Jul, the contestants went on excursions to the National Mall (Smithsonian Institution) and to the Amusement Park, as coordination took place at the Embassy Suite Hotel. The Singapore Team did extremely well this year, bringing back a total of 1 silver medal and 4 bronze medals. They were conferred with their medals in the closing ceremony held at the Kennedy Center. The ceremony also featured inspirational speeches by eminent mathematicians Andrew Wiles and Edward Witten. The Olympiad concluded that evening with a banquet dinner at the National Building Museum.
Team Performance

| | |
| --- | --- |
| Lin Zhiwei, Calvin | Bronze |
| Meng Dazhe | Bronze |
| Tan Kiat Chuan | Silver |
| Tham Ming Qiang, Nicholas | Bronze |
| Yeh Yuanlong, Gary | Bronze |